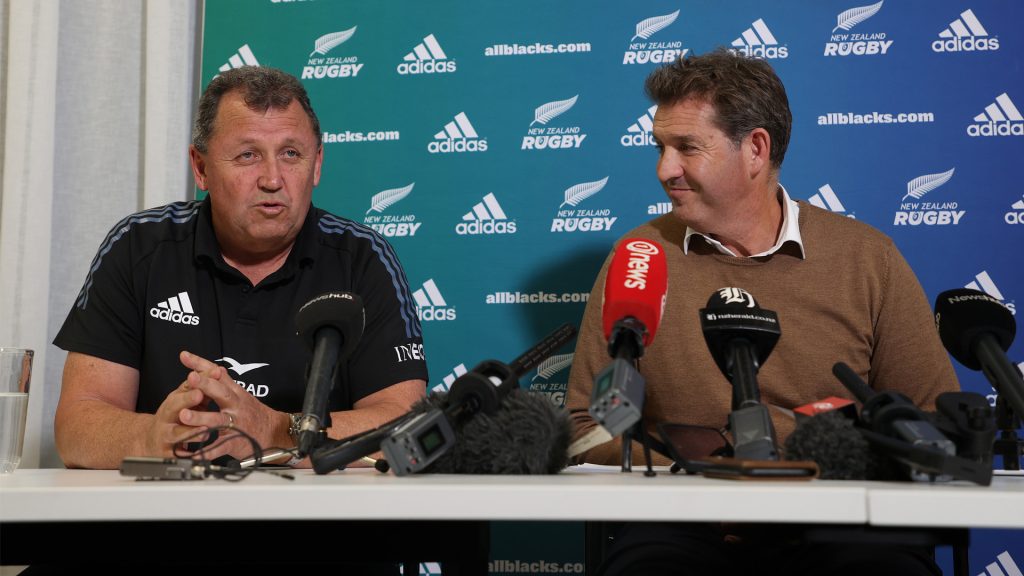 Criticism is once more overdoing New Zealand Rugby for their handling of the All Blacks coaching legend, with this week's Scott Robertson interview being the most current instance of ill-considered interaction and bad monitoring from chief executive officer Mark Robinson and business.
Roberston showed up prior to the media on Wednesday and verified he was totally mindful of where his future lives and was just waiting for New Zealand Rugby's public news of their strategies past the 2023 World Cup to speak about it. That information in addition to the smile on Roberston's face apparently really did not drop so well with present All Blacks head trainer Ian Foster.
Also surprised by the remarks was New Zealand Rugby, that launched a declaration in action to Robertson stating no statements impended on the All Blacks coaching task or the procedure of option.
This break down in interaction is just contributing to the expanding abhorrence the Kiwi rugby public and experts share for the present New Zealand Rugby board, that have actually been called out every which way in the All Blacks type throughout Ian Foster's regime.
New Zealand Rugby CHIEF EXECUTIVE OFFICER Mark Robinson has actually encountered the bulk of the objection, from Sir Steve Hansen's remarks adhering to 2022's collection loss to Ireland charging the connection in between the gamers and the board of being the worst it's ever before been, to expert Martin Devlin today labelling Robinson as spineless throughout a meeting with Mark Watson.
"Whatever is going on, there is just this perception that New Zealand Rugby at the moment is just completely and utterly rudderless," Watson responded to Devlin on The Platform.
"You're right, there is substantiated, creditable people, saying that Scott Robertson's got the job. Scott Robertson himself in a press conference yesterday, when you listen to it, he clearly believes he's got the job, it's just a matter of him actually putting pen to paper.
"What does that mean for Ian Foster? Well, you've got to feel for Ian Foster, he's come out at the same time and is somewhat perplexed by Scott Robertson's comments and is concerned, feeling that it will disrupt the World Cup buildup.
"I don't quite believe in that, I think that Ian Foster will play into that one because it gives him a little bit of a get out of jail free card if things do fail.
"Scott Robertson also, it's being reported elsewhere that he's seeking dispensation to coach Fiji at this year's World Cup or be involved with the Fijian program which I don't actually have a problem with because I mean, players are always getting so-called sabbaticals to go overseas and people have criticised Scott Robertson's appointment – if he does get the All Black job potentially – suggesting that he doesn't have any international experience, which I don't buy into."
Regardless of the coaching consultation itself or the timing of its news, New Zealand Rugby have actually shed the confidence of much of New Zealand's dedicated rugby public. Devlin's views resembled those of Hansen's from 7 months previously, stating it was due time that among all the group testimonials the All Blacks were undergoing, New Zealand Rugby carried out a self-review and checked out their very own management and frameworks.
"Those that reappointed him (Foster) or didn't make the change when a lot of people thought it should be made last year need to fall on their sword as well," Watson stated when assuming a very early leave from the All Blacks at this year's World Cup.
"Whatever they need, New Zealand Rugby have got to come out, they've got to be more transparent, they've got to be more open, they've got to be more decisive.
"But what an absolute just disaster and debacle and it just seems to go from one thing to the next. I mean this coaching saga has now gone on for well over 12 months, it continues to go on, there just seems to be so much uncertainty around it, the only guy that seems certain about one thing I think is Scott Robertson that he in fact does have this All Black job going forward."