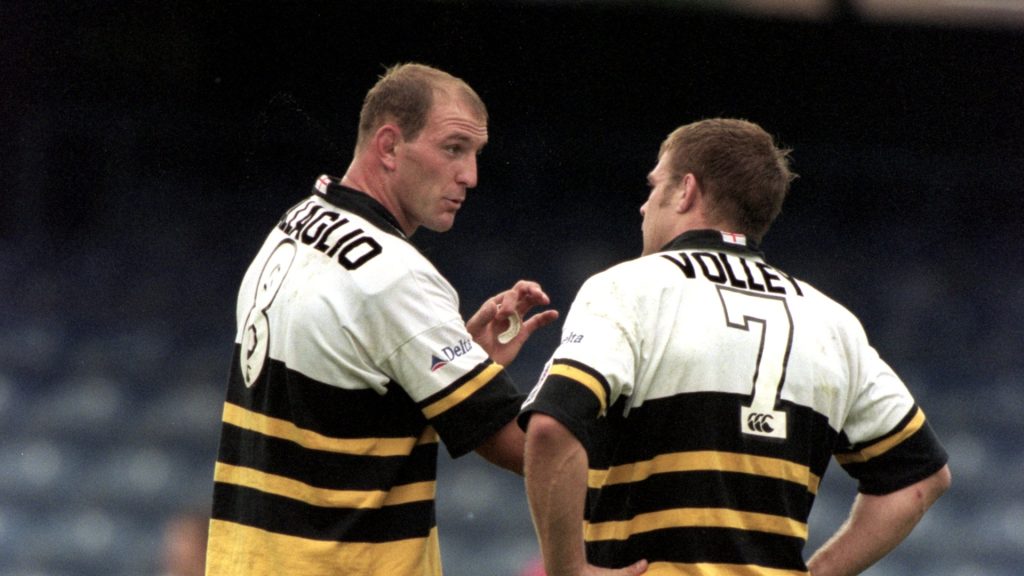 The terrible minute when Lawrence Dallaglio as well as Paul Volley clashed heads as well as awkwardly used in a 2004 Heineken Cup quarter-final has actually been remembered on a podcast assessing that year's fee by Wasps to European splendor.
Wasps took place to win that last-eight suit versus Gloucester on a 34-3 scoreline, however that video game might have taken a various training course if today's blast method was used 19 years earlier. Fellow back-rowers Dallaglio as well as Volley were provided therapy on the pitch for their unexpected clash of heads … as well as both were after that permitted to use.
Dallaglio has actually currently confessed he had not a hint what was taking place, remembering that at half-time he had not been conscious he had actually also racked up in the opening fifty percent of the knockout suit. The admission by the 2003 World Cup victor is had in the last episode of Rugby Stories, the BT Sport collection diving right into turning point minutes in the English club video game.
Wasps' gone to 2004 European splendor was the accomplishment concentrated on in their episode, although the recollection Dallaglio had of their quarter-final success was questionable. "I collided heads with Paul Volley and was unconscious for a little while," he clarified.
"Phil Vickery, I noticed afterwards, went and looked at Paul Volley and took his gumshield out, looked at me and walked past me on the side of the pavement. At that point, the game was 0-0 and we had a bit of a fight on our hands just to stay on the pitch.
"In those days, if you weren't removed from the field of play then you carried on playing. I'm not saying it was right – it wasn't right to do that but if it is within the laws then that is what you do. I said to the doctor, 'I'm not leaving the field because I'm fine, I'm okay'. I knew that if I left the field I wasn't allowed to come back on again.
"There wasn't this HIA or 10-minute concussion protocol or anything like that. And the same with Paul Volley as well. To lose one back row player at that time would have been a problem, to lose two at the same time would have been critical. It was important that we stayed on, even if it was for 10, 15 or 20 minutes.
"I was lucky enough to score a try just before half time and I do remember going down the tunnel and sitting down and half-time and I didn't know where I was, didn't know what the score was. I didn't even know I had scored. That's probably not a good indication that I should have been on the field of play."
Tom Voyce, a Wasps colleague of Dallaglio, included: "That huge collision was just like, they were both on the floor. Obviously today this game would not allow what carried on but you have probably the hardest man in Paul Volley on the pitch and then your leader on the pitch both lying down.
"You do have a bit of a panic station because you have built up that emotion, built up a lot of that focus on these players to go out and perform and hopefully get us a win, and then you see them down. It was a worry, I reckon it was a worry throughout the whole squad. Not only just on the pitch but off the pitch. How those guys picked themselves to this day I don't know.
"I have been sparked out in the past and you think you have been dazed but those boys properly, it was like two buses hitting each other, a full-on car crash. The fact was they got up and carried on playing, but also made the right decisions and didn't affect the team members around them."
Wasps scrum-half on the day, Rob Howley, stated: "It must have been about two, three minutes and then thankfully two of the Wasps icons getting back up and coming back into the war. In today's game, they would be off for a bit of concussion."
For the complete Wasps episode, take a look at BT Sport's podcast collection, Rugby Stories, component of the BT Sport Pods schedule of podcasts. Rugby Stories, provided by Craig Doyle, limelights as well as commemorates English club rugby background. Btsport com/pods